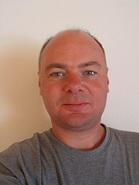 Associate Professor at the IUT2 computer science department of Université Grenoble Alpes
Member of the APTIKAL research team of the LIG laboratory.
Contact information at LIG
Email: Christophe.Brouard@univ-grenoble-alpes.fr
Phone number: 04.57.42.14.64
Office: Bureau 316
LIG - Bâtiment IMAG
700, avenue Centrale
F-38401 Domaine universitaire de Saint-Martin-d'Hères
Research topics: Information access based on Spreading Activation method. Machine Learning. Information Retrieval.
Keywords: Relevance Formalization, Information Retrieval, Information Filtering, Machine Learning, Spreading Activation methods.
Contact information at IUT2
Email: Christophe.Brouard@iut2.univ-grenoble-alpes.fr
Phone number: 04.76.28.45.78
Fax number: 04.76.28.45.28
Office: Bureau 117,
Département Informatique – IUT2
2, place Doyen Gosse
38031 Grenoble cedex